Center for Intelligent Systems, Control, and Robotics
---
Center for Intelligent Systems, Control, and Robotics
The Center for Intelligent Systems, Control, and Robotics (CISCOR) conducts interdisciplinary research in the automated systems area in the FAMU-FSU College of Engineering. Its vision is to use state-of-the-art technology to develop practical solutions to problems in systems, control and robotics for applications in industry and government. The Center's goal is to provide a means for the State of Florida to achieve national prominence in the area of automated systems and to assume a leadership role in the State of Florida's technology of the future.

Research and Development Activities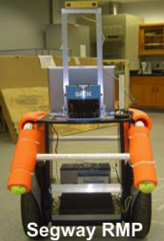 Terrain Classification
Object Classification
Design of Compliant Mechanisms
Sampling Based Motion Planning
Human Aware Motion Planning
Multi-Robot Coordination
Dynamic Modeling of Unmanned Ground Vehicles
Unmanned Ground Vehicle Control on Difficult Terrains
CISCOR Robots
2 ATRV-Jrs
3 Pioneer 3 Robots
4 Pioneer 2 Robots
1 Segway RMP 200
The robots are well equipped with GPS, inertial measurement units, stereo cameras, compasses, laser range finders, and sonar sensors.
Supervisor: Dr. Jonathan Clark, clarkj@eng.famu.fsu.edu
---
Last Updated: Friday, April 12, 2019 at 12:09 PM