---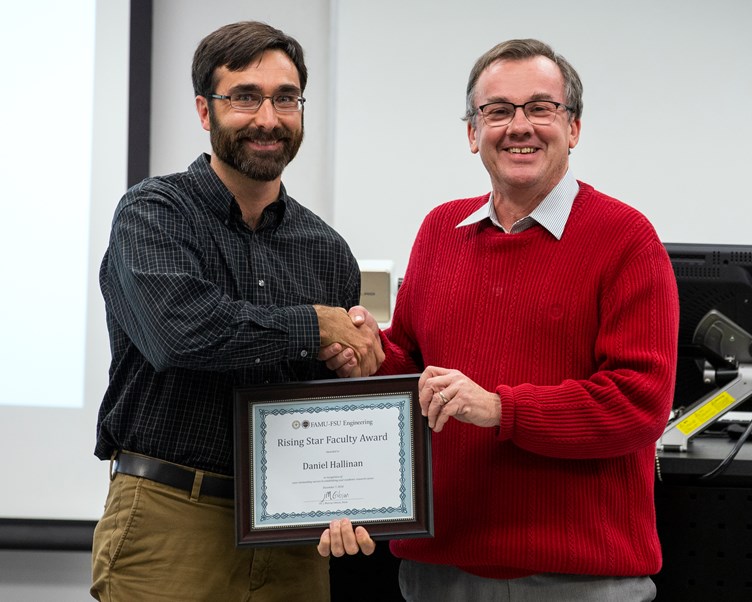 Above: Dr. Hallinan receiving his Rising Star Faculty Award from the Dean of Engineering, Murray Gibson, Ph.D.
---
FCAAP's very own Daniel Hallinan, Ph.D. was acknowledged by the FAMU-FSU College of Engineering's Dean's Office for exemplary publications and student development. 
The Rising Star Faculty Award is given each year to a faculty member in a tenure-earning position who has achieved outstanding success in building their research career through publishing high impact research, securing competitive external support, and developing successful PhD students. While the award is focused on research, exemplary performance in all three elements – research, teaching, and service – is expected.
Dr. Hallinan is honored to receive this prestigious award. His innovative spirit is matched only by his humility, as exemplified by his comments: "My success is due in large part to the hard work of present and past students in my group, as well as strong support and mentoring from colleagues in the Chemical and Biomedical Engineering Department." When asked how the award will be utilized, he added: "..the award will allow us to improve our productivity and competitiveness by keeping our research tools cutting-edge."
The award comes with $10,000 discretionary research funding to be spent within two years. The award may not be given each year if there are insufficiently outstanding nominations.